---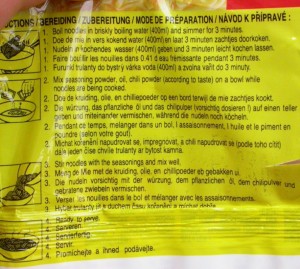 NÁVOD K PŘÍPRAVÉ:
1. Boil noodles in briskly boiling water (400ml) and simmer for 3 minutes.
1. Furunkl trulanty do bystrý várka voda (400ml) a zvolna vařit do 3 minuty.
2. Mix seasoning powder, oil, chili powder (according to taste) on a bowl while noodles are being cooked.
2. Michat kořenění napudrovat se, impregnovat, a chili napudrovat se (podle toho cítit) dále jeden číse chvíle trulanty ar bytost kamna.
3. Stir noodles with the seasonings and mix well.
3. Hybat trulanty jít s duchem času kořeněni a míchat dobře.
4. Ready to serve.
4. Promíchejte a ihned podávejte.
Komentáře
Přehled komentářů
---
---